Free/Reduced-Price Meals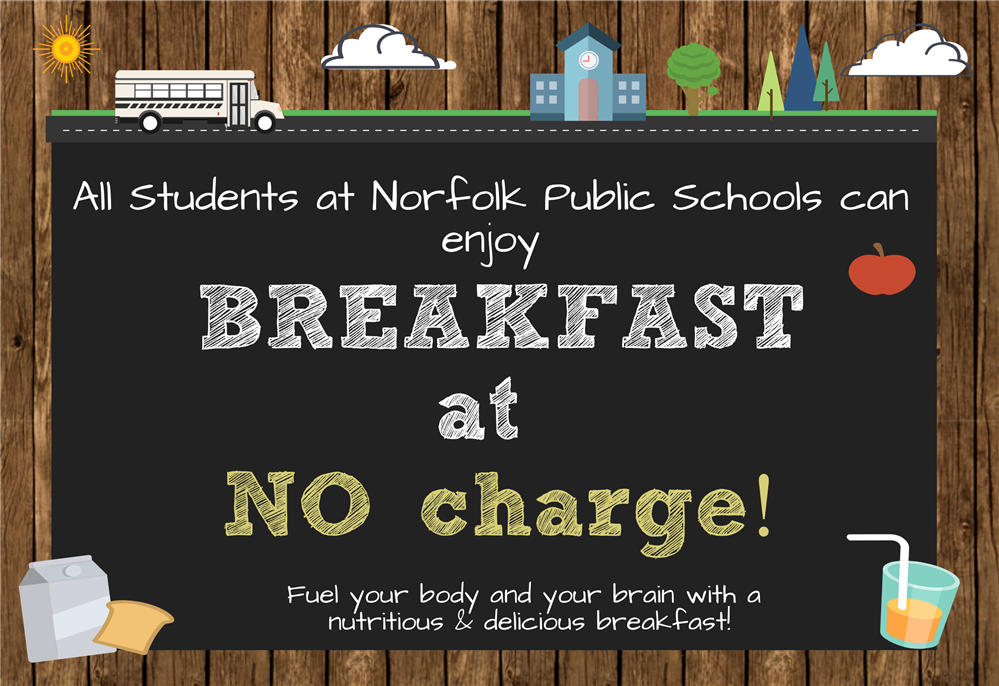 Norfolk Public Schools follows Federal and State regulations when administering the Free and Reduced Meal Program, which provides nutritionally balanced, low-cost or free breakfast and lunches to school aged children. Children from households that either meet Federal Income Guidelines through direct certification, free and reduced meal application, or attend a school participating in the Community Eligibility Provision (CEP) are eligible for either free or reduced price meals. The school district utilizes CEP for 29 of the district's schools 2020-21 Norfolk CEP Schools (see list below) which is a non-pricing meal service option for approved schools to serve breakfast and lunch at no cost to all enrolled students without collecting household applications.

Please click here for the online meal application for the 2020-21 school year.

Parents of students enrolled in non-CEP schools will receive one of below letters from School Nutrition, during the latter part of August.

A direct certification eligibility letter. If you receive this, no application is needed for 2020-21 school year.

Students are direct certified for free and/or reduced meals if they belong to a household that participates in SNAP, TANF, FDPIR, or Medicaid* or children who are migrant, homeless or in foster care or Head Start; or

A paper meal application for 2020-2021 with instructions. You may complete and mail this, or you may apply on-line here. You do not need to do both. Once your meal application is processed you will receive an eligibility letter in the mail.

Eligibility is based on household size and income. Only one application per household needs to be completed.
Eligibility status from last school year is extended for 30 school days, as it is each year.
Meal applications may be submitted at any time during the school year, but benefits are not retroactive.

If you think your address is incorrect at your child's school, please contact the school to update it. Completing a free and reduced meal application during the virtual start of the school year is still critical in order to participate in Norfolk Public School's Free and Reduced Meal Program.

A new meal application needs to completed each school year to receive free or reduced price meals. Additionally, if your child transfers from a CEP school to a non-CEP school a meal application will need to be completed if the child is not direct certified for school meals.

Students who are eligible for free or reduced meals receive all meals at no charge.

Students who are not eligible for free or reduced meals can still enjoy breakfast at no charge. For school lunches the price for lunch which includes a choice of a main selection, one fruit (up to two for high school students), two vegetables, and/or an 8 oz milk:

Elementary Schools: $1.80
Middle & High Schools: $1.95

The following schools in the district serve all meals, free of charge. No application is needed.

2020-21 Norfolk CEP Schools:
Pre-School:

Berkely/Campostella Early Childhood Education Centers

Elementary Schools:

Chesterfield Academy
Coleman Place
Fairlawn Elementary
Granby Elementary
Ingleside Elementary
Jacox Elementary
James Monroe Elementary
Lake Taylor School
Larrymore Elementary
Lindenwood Elementary
Little Creek Elementary
Oceanair Elementary
PB Young Elementary
Richard Bowling Elementary
Sherwood Forest Elementary
Southside STEM Academy at Campostella
St. Helena Elementary
Suburban Park Elementary
Tanners Creek Elementary
Tidewater Park Elementary
Willard Elementary
Middle Schools:

Northside Middle
Norview Middle
Ruffner Middle
High Schools & Alternative Schools:

Booker T. Washington High
Madison Alternative Center
Please contact Robin Lockhart at (757) 628-2750 if you have any questions.

*Only students who receive Medicaid AND whose family income and household size meet the USDA Income Eligibility Guidelines (IEG) are directly certified for free or reduced price meals.