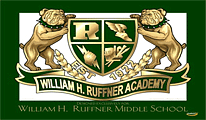 Mission Statement & Focus Statement
Welcome to Ruffner Academy where our mission is to foster a community of pride, good character and academic excellence

by increasing student engagement and developing meaningful relationships in order to produce life-long learners.
Contact Information
Tracey Flemings, Principal
610 May Avenue
Norfolk, VA. 23504

Phone: (757) 628-2466
Fax: (757) 628-2465

Office Hours: 7:30 a.m.-3:30 p.m.
Student Hours: 8:30 a.m. - 3:00 p.m.
Announcements
Ruffner Middle School Uniform Policy

All Ruffner students are required to wear a school uniform. Please click on the link below for detailed information on the student uniform policy.

Ruffner Middle School Student Supply List

Please click on the link below to find a general school supply list for all students. Some teachers may require additional items and will send that information home with students on the first day of school.