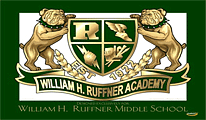 Mission Statement & Focus Statement
Welcome to Ruffner Academy where our mission is to foster a community of pride, good character and academic excellence by increasing student engagement and developing meaningful relationships in order to produce life-long learners.
Contact Information
Jeryl Scott, Principal
610 May Avenue
Norfolk, VA. 23504

Phone: (757) 628-2466
Fax: (757) 628-2465

Office Hours: 7:30 a.m.-3:30 p.m.
Student Hours: 8:15 a.m.-2:45 p.m.
Announcements
Ruffner Academy is thrilled to announce the students that were accepted into the High School Specialty Programs. They are as follows:

​

Lake Taylor High School Leadership and Military Science Academy

Triniti Benitez-Rogers

Nathan Brown

Deandre Headen

Kaveont Howard

Booker T. Washington High School Academy of Visual and Performing Arts

Natalie Davoren

Updated Guidelines for Specialty Programs, Spring 2020

Due to the extended school closure mandated by Governor Northam, the Specialty Program Committee has reviewed the application process and the following adjustments have been made:

There will be no program testing;

There will be no interviews; and

There will be no portfolio reviews or auditions.

Each student's application will be evaluated by using the established district rubric which includes reviewing the application information and the student's record.

For the lottery schools: The lotteries for Academy for Discovery, Southside Stem, Ghent, and Academy of International Studies will be conducted the week of April 6, 2020.

For all programs: Students will be notified of their status for the 2020-21 school year in a mailing scheduled to be sent out on April 27, 2020.

All Ruffner students are required to wear a school uniform. Please click on the link below for detailed information on the student uniform policy.

Please click on the link below to find a general school supply list for all students. Some teachers may require additional items and will send that information home with students on the first day of school.