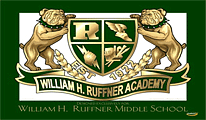 Mission Statement & Focus Statement
Welcome to Ruffner Academy where our mission is to foster a community of pride, good character and academic excellence

by increasing student engagement and developing meaningful relationships in order to produce life-long learners.
Contact Information
Jeryl Scott, Principal
610 May Avenue
Norfolk, VA. 23504

Phone: (757) 628-2466
Fax: (757) 628-2465

Office Hours: 7:30 a.m.-3:30 p.m.
Student Hours: 8:15 a.m.-2:45 p.m.

October 2020

Greetings Ruffner Families, Staff, and Students

As we enter into virtual learning for the 2020-2021 school year our continued commitment for Ruffner students is to engage students with effective instruction.

Click here to read the full Ruffner October Letter
Announcements
Ruffner Middle School After School Clubs & Activities Zoom Links

Ruffner Middle School has several opportunites for students to be involved in after school clubs and activities. Please click here Ruffner After School Clubs & Activities Zoom Links to access the activities, sponsors and zoom links.

Norfolk Public School 2020-2021 Even/Odd Schedule

Ruffner Middle School Uniform Policy

All Ruffner students are required to wear a school uniform. Please click on the link below for detailed information on the student uniform policy.

Ruffner Middle School Student Supply List

Please click on the link below to find a general school supply list for all students. Some teachers may require additional items and will send that information home with students on the first day of school.