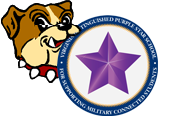 Kathryn M. Verhappen, Principal
7101 Newport Ave.
Norfolk, VA 23505

Phone: (757) 451-4150
Fax: (757) 451-4157

kverhapp@nps.k12.va.us

Office Hours: 8:00am - 4:00pm
Student Hours: 8:55am - 3:20pm
Breakfast: 8:30-9:00 am
Welcome Statement
Welcome to Granby Elementary School, home of the Bulldogs! The mission of Granby Elementary School, where we are one team, one dream reaching each and every child, is to ensure that all students maximize their academic potential, develop skills for lifelong learning and are successful contributors to a global society, by:

• Determined advocacy for all students
• Family and community investment
• Data-driven personalized learning
• Strong and effective leadership teams
• Shared responsibility for teaching and learning
• Building a strong foundation that prepares
students for middle school
• Access to explore rigorous and rewarding future
college and career readiness opportunities
Announcements
Click below to read the COVID Letter:

Want your child's cherished memories from 2019-2020 documented-order a yearbook!!

For tutoring questions, please contact Mrs.

Verhappen

at 451-4150 extension 3010.

Do you want to be a volunteer in your child's school?

If so, follow the link below and follow the step by step process.

Supply Lists 2019-2020

Click below for your grade-level supply lists.

*Note: You can also find the supply lists, every year, at the local Wal-mart (Tidewater Dr.) and outside the Main Office at Granby Elementary.