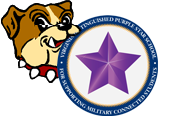 Kathryn M. Verhappen, Principal
7101 Newport Ave.
Norfolk, VA 23505

Phone: (757) 451-4150
Fax: (757) 451-4157

kverhapp@nps.k12.va.us

*These hours become effective Thursday, March 4, 2021

Office Hours: Monday-Friday 8:30 AM - 3:30 PM

(Note: These hours are by appointment only. Call 757-451-4150 to schedule a registration appointment)


Student Hours: 9:15 AM - 3:40 PM
(Be sure your student(s) is logged in by 9:15 AM)
Announcements
Early Release Days for June 2021:

June 14, 15 and 17 1:05

June 16 Asynchronous Wednesday

2021-2022 Important Registration Information

Early Kindergarten registration for students will be effective May 24, 2021-June 16, 2021.

Registration hours will occur between 10:00 a.m.-2:00 p.m., Monday-Friday.

Student registration for grades K-12 will be effective June 21, 2021, through September 3, 2021.

Registration hours will occur between 9:00 a.m.-11:30 a.m. and 1:00 p.m.-3:00 p.m., Monday-Thursday.

Registration will be closed on All Staff days.

Click below to access the SOL Parent Night Session:

If you missed our Pre-Kindergarten informational session, please tune in below. Click the link and press play.

The fair will run from April 20, 2021-May 3, 2021.

The shopping link will open on April 20, 2021.

Click below to find out about Express Book Nooks

Check out the flyer below to find out how to access Express Book Nooks

Click below to view the Granby Elementary School Parent Policy

Contact Mrs. Kathy Verhappen, Principal or Mrs. Janesta White, Family Engagement Specialist-Contact information listed in the document-with any questions/concerns.

Here are some very valuable COVID-19 and Mental Health resources, provided by the GES Student Wellness Team.

Click the link below:

Middle School/High School Student Professional Development Opportunity

Click the link below for the Math Parent Workshop hosted by Ms. Overton, Title 1 Teacher and Mrs. Carter, Math Specialist

OVERARCHING SCHOOL GOAL: Granby Cares!

INSTRUCTIONAL FOCUS: Engaging Families and Students in purposeful learning, students using and implementing Metacognition and Comprehension strategies across all content areas.

Schoolwide Smart-e Goal: By the end of 2020-2021 school year, ALL STUDENTS will show growth. 75% of the students will meet or exceed grade level benchmarks in math and reading as measured by the SOLs, PALS, VKRP, performance tasks, STAR, and eportfolio. 25% of the students will show growth within their current tier.

Updated Master Schedule

https://drive.google.com/file/d/1Onf7cSuk_B0QoAfE9IJ3E_QUk6rduksq/view?usp=sharing


Grab and Go Meals-Updated October 26, 20202

School Nutrition is providing Grab-N-Go meals at no charge to ALL children (ages 18 and under) at 34 locations each week from 3:00 p.m. to 5:00 p.m., Monday through Friday. Breakfast, lunch, snack, and supper are being distributed together.

These meals are convenient, safe, and nutritious! To learn more about supporting our school meals program while saving your family time and money, visit:

https://www.npsk12.com/Page/16549

and

https://bit.ly/3e2tmto

.

Follow the link below to the health metrics.

Select Norfolk City in the drop down menu. We must be in the green for Norfolk and regional statistics for 14 days before the Norfolk School Board considers sending any students back to school.

The School Board approves in-person learning under certain conditions. Click below:

Christmas Assistance Anyone?

Click the link below to view the flyer:

Click the words below for the Virtual Meals flyer:

Device Pick-up for the week of August 31st (Tuesday and Thursday). Click the Link below:

Registration for the 2020-2021 school year for new Kindergarten and transfer students will begin July 2nd by appointment only. We will be open Tuesdays and Thursdays 10-2. Please email Mrs. Verhappen at kverhapp@nps.k12.va.us

Updated Guidelines for Specialty Programs, Spring 2020

Due to the extended school closure mandated by Governor Northam, the Specialty Program Committee has reviewed the application process and the following adjustments have been made:

· There will be no program testing;

· There will be no interviews; and

· There will be no portfolio reviews or auditions.

Each student's application will be evaluated by using the established district rubric which includes reviewing the application information and the student's record.

For the lottery schools: The lotteries for Academy for Discovery, Southside Stem, Ghent, and Academy of International Studies will be conducted the week of April 6, 2020.

For all programs: Students will be notified of their status for the 2020-21 school year in a mailing scheduled to be sent out on April 27, 2020.

Click below to read the COVID Letter:

Want your child's cherished memories from 2019-2020 documented-order a yearbook!!

For tutoring questions, please contact Mrs.

Verhappen

at 451-4150 extension 3010.

Do you want to be a volunteer in your child's school?

If so, follow the link below and follow the step by step process.

Supply Lists 2019-2020

Click below for your grade-level supply lists.

*Note: You can also find the supply lists, every year, at the local Wal-mart (Tidewater Dr.) and outside the Main Office at Granby Elementary.
Welcome Statement
Welcome statement

Welcome to Granby Elementary School, home of the Bulldogs! The mission of Granby Elementary School, where caring is at the heart of everything we do, is to ensure that all families and students are engaged in purposeful learning, students are using metacognition and comprehension strategies across all curriculum areas to ensure life-long learning.

Norfolk Public Schools and Granby Elementary

will focus on Equity and Opportunity for ALL students by providing a rigorous, engaging, collaborative and

supportive learning environment

for our students and families.

Granby Cares!!!!
School News
GES Master Schedule 2020-21