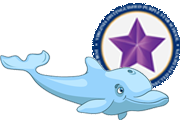 Starting Monday, August 31st, families will be able to come to the school to pick up materials that will be essential for virtual learning.

Student material pick up will be as follows:

Monday, August 31st - Families A-I

Tuesday, September 1st Families J-R

Wednesday, September 2nd- Families S-Z

Hours 1PM-3PM

Pick up will be in the back parking lot on the "Administration" side of the building (where PreK students are usually dropped off).
Military Families!
123 Schools Earn Virginia Purple Star Award for Meeting Needs of Military Children and Families

RICHMOND — The Virginia Department of Education and the Virginia Council on the Interstate Compact on Educational Opportunity for Military Children are recognizing 123 schools as "Purple Star" schools. The Purple Star designation is awarded to military-friendly schools that have demonstrated their commitment to meeting the needs of military-connected students and their families.

To qualify for a Purple Star, schools must have a staff member designated as the point of contact for military students and families. The point of contact serves as the primary link between the military family and the school. Schools must also demonstrate their commitment to meeting the needs of military students by providing resources and programming on issues important to military families, such as academic planning and transitions between schools, districts and states.

This is the second year VDOE and the Virginia Council have designated Purple Star schools. The public schools earning 2019 Purple Star awards in Norfolk are as follows, by division:

· Academy for Discovery at Lakewood, Bay View Elementary, Camp Allen Elementary, Granby Elementary, Larchmont Elementary, Sewells Point Elementary, Willard Model Elementary and Willoughby Early Childhood Center
Contact Us
Dr. Laura Baez-Akbik, Principal
1434 Bay View Blvd
Norfolk, VA 23503

Phone: (757) 531-3030
Fax: (757) 531-3025

Office Hours: 8:00 am - 4:00 pm
Student Hours: 8:55 am - 3:20 pm