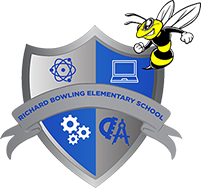 School News
Ms. Hogge and Ms. Maniscalco are our current Club212 winners!

Pictures of school activities
Our Mission, Vision and Philosophy
Mission:
All scholars will be promoted from Richard Bowling Elementary with the ability to transfer their learning as independent thinkers and problem solvers to become global leaders. It is the

vision

of the staff to challenge all scholars academically and socially while customizing learning opportunities to meet their individual needs.
Mr. Eric Goodman, Principal

I am Mr. Eric Goodman and it is my pleasure to serve as the Principal of Richard Bowling Elementary School. Prior to coming to Richard Bowling, I served as an Assistant Principal at Ocean View Elementary, Instructional Interventionist at Fairlawn Elementary, and First & Third grade teacher at Lindenwood Elementary. It is my privilege to create and supervise an academic program that meets the individual learning needs for every student who comes through our doors. The staff and I believe one way to ensure that every student receives a quality education is to build significant relationships among students, parents, teachers, and administrators. Working together we can form a nurturing learning community, where every student at Richard Bowling Elementary acquires the essential skills necessary to thrive in the 21 Century. Thank you for visiting our website!

Mrs. Bythella Hickman, Assistant Principal

The 2018-19 school year will be my thirty-first year as an educator and seventh year serving in a school leadership position with Norfolk Public Schools. While on the journey, I am proud of the work that I was able to do to establish a classroom environment that encouraged learning and that I was able to guide students on a path to success.

My educational background is a true example of my belief in life-long learning. I received both my Bachelor's of Science in Social Work and Master's degree in Elementary Education respectively from Southern University. In my desire to make an impact on the larger school community, I enrolled in the Educational Leadership Program at the University of Virginia and earned my advanced endorsement in School Administration and Supervision.

I truly believe that Richard Bowling Elementary is a remarkable school with a fine tradition of family and community with a commitment to developing the unique talents of all scholars. It is our desire to equip scholars, beginning in preschool, to function at their highest potential, thereby enabling them to become globally, productive, responsible citizens. We are committed to moving beyond a focus on the basic reading, mathematics, writing, science and social studies to promoting academic rigor through critical thinking, problem solving, communication and collaboration in a safe, student-centered environment.

Of course, we cannot do this alone. As parents, guardians and/or caregivers, we need your support, cooperation and participation to make this become a reality for each scholar. Working together we can make a difference in the future of our RBES scholars.

I am proud to be the Assistant Principal at Richard Bowling Elementary and I look forward to developing relationships with the staff, students, parents and the Broad Creek Community.

I look forward to a fantastic year here at RBES! If we can assist you in any way, please do not hesitate in contacting our office staff at 628-2515.


2700 East Princess Anne Road
Norfolk, VA 23504

Phone: (757) 628-2515
Fax: (757) 628-2512

Office Hours: 8:30am - 4:30pm
Student Hours: 9:30am - 3:55pm
Announcements
Seeking Community Input: Norfolk Public Schools Corrective Action Plan/Reconstitution Agreement for School Improvement

Recently, NPS completed work with the Virginia Department of Education (VDOE) on a new Corrective Action Plan/Reconstitution Agreement for School Improvement. This work captures Norfolk's targeted steps in district turnaround based on student achievement outcomes for the city's schools that fall under the state sanction of "Accreditation Denied" or "Partially Accredited: Reconstituted". The plan may be found by clicking here.