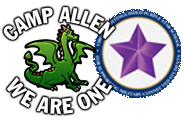 Announcements
Camp Allen Parents & Guardians , we want to ensure that here at Camp Allen everyone stays connected. If you have not downloaded the Class Dojo App on your mobile device. Please do .

#ONE TEAM! ONE MISSION: EXCELLENCE
Mission
Camp Allen Elementary School Mission

---

One Team. One Mission: Excellence!

With EXCELLENCE defined as:

a rigorous academic program that promotes innovation, student engagement, critical thinking and problem solving.

a nurturing school environment that fosters social and emotional growth

a diverse community of learners that champions inclusivity and respect for others

Camp Allen Elementary School Instructional Focus

---

The Camp Allen Elementary School Community will collaborate to ensure that all students within our community can comprehend grade level text in every classroom through the utilization of visualization and justification strategies, integration of rich vocabulary instruction, and the facilitation of number talks, as measured by school level, district-wide and state assessments.

Student Friendly Instructional Focus

---

TO COMPREHEND AND DEFEND

SMARTe GOAL

---

By the end of the 2021-2022 school year, 80% of students will meet or exceed grade level benchmarks . Grade level benchmarks are measured by PALS (K-1) and STAR (2-5). 100% of students will demonstrate measurable growth each year.
Contact Us
Deena Johnson Copeland, Principal
501 "C" Street
Norfolk, VA 23505

Phone: (757) 451-4170
Fax: (757) 451-4172

Office Hours: 8:00am - 4:00pm
Student Hours: 9:15am - 3:40pm
Congratulations CAES , A JOB WELL DONE!