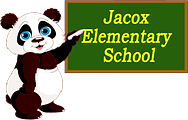 News and Information
2021-2022 NPS Elementary Schools Before and After Care Programs

Click Here to learn more!
PHN: Panda Headline News
Welcome back message from Dr. Litchmore, Principal of Jacox Elementary School
Mission and Vision
Panda Nation, where

PANDAS

Stay T.R.U.E.

They

T

hink,

R

ead,

U

nderstand, and

E

xplain
Mission Statement

Our mission is to move our school to a high performing status reflective of the community. Our goal is to continue making measureable progress towards becoming fully accredited as measured by the Virginia Standards of Learning (SOL). With your commitment to our children we will see this goal come to fruition in the near future. Again, we are excited about what this year has to offer and seeing ALL children grow.

Vision

Our Vision is to foster community where all children feel loved, respected and encouraged to develop to their fullest potential. Equity and Excellence for all.