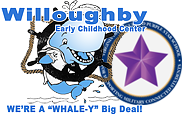 Announcements
Please follow this link to download the new Learning Packet II for April 6-April 24.

The Virginia Purple Star Designation is awarded to military-friendly schools that have demonstrated a major commitment to students and families connected to our nation's military. Schools that earn the award will receive a special Purple Star recognition to display onsite. Willoughby ECC is the first Pre-K school to recieve this honor.

Follow us on Twitter @WilloughbyEarly for daily announcements and great happenings here at WECC!
Welcome
At Willoughby, we teach the heart and the mind.

OUR MISSION STATEMENT

Willoughby Early Childhood Center is committed to providing a challenging learning environment that fosters every child's social, emotional and intellectual growth and promotes lifelong learning.

INSTRUCTIONAL FOCUS

WECC primary focus is developing the whole child emotionally and socially by teaching and modeling research based strategies and reinforcing positive interactions between the adult/child and peer/peer in every classroom, every day, for every student – no exception.

STUDENT FRIENDLY INSTRUCTIONAL FOCUS

At Willoughby, we teach the heart and the mind.

SMARTe Goal

By the end of the 2019-2020 school year, 100% of WECC students will show growth with expressing wants, needs and recognizing and expressing emotions. Student growth will be measured quarterly by Milestone of Child Development Assessment (Prek 3), Teaching Strategies: Gold Assessment (Prek 4) and AEPsi (Special Education). Growth will be differentiated based on the individual student's progression throughout the 2019-2020 school year.
Contact Information
Laundrell D. Gates, Principal
Phone: (757) 531-3126
Fax: (757) 531-3125
Email: ldgates@nps.k12.va.us

Mrs. Debra Brown
Office Manager

Phone: (757) 531-3126
Fax: (757) 531-3125

Office Hours: 8:30am - 4:30pm
Student Hours: 9:30am - 3:55pm
Monday-Friday