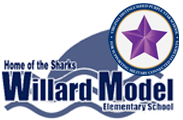 Contact Information
Mrs. Julie Honeycutt, Principal
1511 Willow Wood Drive
Norfolk, Virginia 23509

Phone: (757) 628-2721
Fax: (757) 628-3997

jhoneycutt@nps.k12.va.us

Office Hours:
Monday-Friday: 8:00am - 4:00pm

Student Hours:
Monday-Friday: 8:55am - 3:20pm

Instructional Focus:

Willard Sharks "Chomp Into Comprehension." Students in grades Pk-2 will retell stories with detail. Students in grade 3-5 will summarize.

Willard Sharks "Chomp Into Comprehension." Students will make measurable growth as measured by Teaching Strategies Gold (PK), PALs (PK-3), District Benchmark assessments (2-5) and SOL assessments (3-5). Students in grades PK-2 will be provided direct teaching opportunities on details to support retelling such as characters, setting, problem, solution, feeling, beginning, middle and end of stories. Students in grades 3-5 will summarize determining main idea and supporting details. Graphic organizers be used to support student learning.

Willard Elementary School's mission is...




To ensure the success of each student in a safe, stimulating, and challenging environment supported with a committed workforce that focuses on quality teaching and learning.

We Believe




• All students will learn.




• All students will be held accountable for acceptable behavior and respecting peers and adults.




• All personnel within the organization will be held accountable for ensuring that decision-making is data-driven and congruent with the district's vision, mission, and goals.




• Meaningful professional development is critical to quality work performance.




• Cultural diversity and learning styles of students will be recognized, and enhanced alternative education programs are essential for students.




• Data analysis is critical to examining existing practices, programs, and initiatives for continuous improvement.




• All students, staff, parents, and community members are ambassadors for the school system
Welcome
Welcome to the 2020-2021 school year. This is quite an unusual year as we open our school to virtual teaching and learning due to COVID-19. We will work on establishing relationships with our students and families as our families become even more involved in the educational journey at Willard Model Elementary School.
Your child(ren) will receive the same caring education virtually that you would expect in our school building. You will hear and see Morning Meetings occurring to provide students with some opportunities to socialize with peers on a regular basis. Mrs. Lee, our school counselor, will be meeting regularly with our sharks, as well as all of our resource teachers. In addition to the content that is expected in a classroom, your child wil participate in art, music, PE and media services (library).
Willard Model Elementary School is like a family. We are proud to have had a Norfolk Public Schools' Teacher of the Year, Mr. Matthew Roadruck (2014). Additionally, we have had two teachers place in the Norfolk Public Schools' Top 10 Teacher of the Year, Mrs. Sherry Lee (2015) and Mrs. Dana Wakefield (2016). We have a dedicated faculty and staff willing to go "above and beyond" to meet the needs of our students. While students are learning, teachers will be nurturing a positive, safe and caring environment for students to excel. In addition to recognizing students for their academic successes, we are also recognizing students who exhibit positive character traits and make efforts to improve the school day for others. Three overarching themes exist this year as we address behaviors. We are recognizing students who are SAFE, are RESPONSIBLE are RESPECTFUL and are KIND. Please help us reinforce these behaviors by acknowledging these same appropriate behaviors at home.
I invite parents and family members to be actively involved in the daily learning taking place through our school. Small steps will lead to huge successes. Designate a space or area for your child to complete classwork and engage in Zoom lessons that is free from distractions. Check for classwork that needs to be submitted through Canvas. Check ParentVUE to stay abreast of classwork and test grades. Create an open dialogue with your child about school to learn his/her favorite subjects and why that subject is a favorite.

Our school week will be explained in the this Elementary Reopening Document. Wednesday is an asynchronous day for students to complete any missing assignments and receive additional support, providing Equity and Excellence for all!

The faculty and staff at Willard Model Elementary School want all of our students to be successful and feel great about the education they are receiving.

I encourage you to maintain an active role in your child's education. Together, we can create a positive learning experience for your child.

We are in this together. Let's have a JAW-some year!
Mrs. Honeycutt

Willard Misses Our "kids"!
WMES Announcements
December Bike Winner!

Click on this link to hear the details!

Parents and Guardians of Willard Students,

Please fill out this attendance form for all of your student's absences. It is critical for your student's academic success that they attend school every day. Please let us know if there is a reason your student was unable to attend by filling out the form found at this link.

Thank you,

Mrs. Julie Honeycutt

2020-2021 SCHOOL SUPPLY LIST

Title I PowerPoint - Click Here

NORFOLK PUBLIC SCHOOLS

​

TITLE I &

​

FAMILY ENGAGEMENT

​

TO PROVIDE INFORMATION TO FAMILIES REGARDING TITLE I​
EXPLAIN FAMILIES' RIGHTS UNDER TITLE I