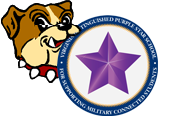 Contact Information
Kathryn M. Verhappen, Principal
7101 Newport Ave.
Norfolk, VA 23505

Phone: (757) 451-4150
Fax: (757) 451-4157

kverhapp@nps.k12.va.us

*These hours become effective Thursday, March 4, 2021

Office Hours: Monday-Friday 8:30 AM - 3:30 PM

(Note: These hours are by appointment only. Call 757-451-4150 to schedule a registration appointment)


Student Hours: 9:15 AM - 3:40 PM
(Be sure your student(s) is logged in by 9:15 AM)

Registration Information:

Registration is by appointment only. If you reside in our attendance zone, you may pick up a registration pack and complete it at home. When you have ALL the required documents call our main office to schedule an appointment. The office staff is here to assist you. If you complete an online registration, you will still have a few pages to complete that are specific to our school.

Office hours are 9-11:30 and 1-3 M-TH

Thank you for your support.
Welcome Statement
Welcome to Granby Elementary School, home of the Bulldogs! The mission of Granby Elementary School, where caring is at the heart of everything we do, is to ensure that all families and students are engaged in purposeful learning, students are using metacognition and comprehension strategies across all curriculum areas to ensure life-long learning.

Norfolk Public Schools and Granby Elementary will focus on Equity and Opportunity for ALL students by providing a rigorous, engaging, collaborative and supportive learning environment for our students and families.
Announcements
Registration Hours

Registration is by appointment only. If you reside in our attendance zone, you may pick up a registration pack and complete it at home. When you have ALL the required documents call our main office to schedule an appointment. The office staff is here to assist you. If you complete an online registration, you will still have a few pages to complete that are specific to our school.

Office hours are 9-11:30 and 1-3 M-TH

Thank you for your support.


---




School Supply List 2021-2022

This year we will provide most of the school supplies that your child needs along with a bookbag. These items will be distributed in a drive through the week before school starts. A schedule will be posted on Class Dojo and the Granby Elementary PTA Facebook page later. A robo call message will also go out by September 30th.

Thank you for your continued support.

Click the link below for this year's list. Supply List 2021-2022


---

2021-2022 Important Registration Information

Early Kindergarten registration for students will be effective May 24, 2021-June 16, 2021.

Registration hours will occur between 10:00 a.m.-2:00 p.m., Monday-Friday.

Student registration for grades K-12 will be effective June 21, 2021, through September 3, 2021.

Registration hours will occur between 9:00 a.m.-11:30 a.m. and 1:00 p.m.-3:00 p.m., Monday-Thursday.

Registration will be closed on All Staff days.

---

Pre-Kindergarten Virtual Informational Session

If you missed our Pre-Kindergarten informational session, please tune in below. Click the link and press play.

Pre-Kindergarten Informational Session

---

---

GES Parent Policy

Click below to view the Granby Elementary School Parent Policy GES Parent Policy
Contact Mrs. Kathy Verhappen, Principal or Mrs. Janesta White, Family Engagement Specialist-Contact information listed in the document-with any questions/concerns.

---

COVID-19 and Mental Health Resources

Here are some very valuable COVID-19 and Mental Health resources, provided by the GES Student Wellness Team. Click the link below:
COVID-19 and Mental Health Resources
School News
GES Master Schedule 2020-21