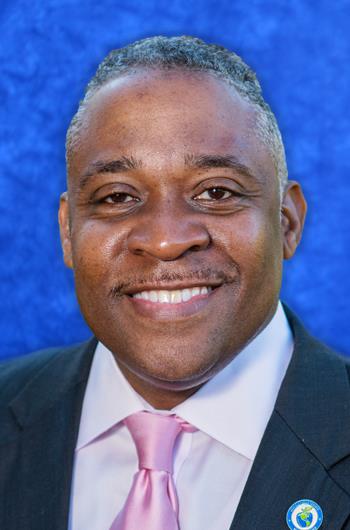 Phone: 757-769-8680 ext. 230 (office)
Email:
Degrees and Certifications:
Mr.

Rodney A. Jordan

Appointed to the Board: July 1, 2012
Elected to the Board: May 3, 2016
Term Expires: December 31, 2024
Superward 7

Rodney Jordan has served on the Norfolk City (Virginia) School Board since 2012 (Board Chair, 2015 – 2018, Vice Chair 2020). In 2019-2020 Mr. Jordan served as the Virginia School Boards Association President. Mr. Jordan has served since 2014 as the co-chair for the VSBA Task Force on Students and Schools in Challenging Environments among other positions at the state and regional levels. In 2020, National School Boards Association (NSBA) President Charlie Wilson and NSBA Secretary/Treasurer Frank Henderson, Jr., Co-Chairs of the Dismantling Institutional Racism in Education (DIRE) National Advisory Committee, selected Mr. Jordan to serve as a member of the DIRE National Advisory Committee.

Mr. Jordan was the 2020 recipient of the Benjamin Elijah Mays Lifetime Achievement Award from the Council of Urban Boards of Education and the 2020 inaugural recipient of the Mary Peake Excellence in Education Equity Award from the Virginia Department of Education. In 2015, he was recognized by the Virginia School Boards Association as its inaugural Education Advocate of the Year, an award created to recognize board members who have demonstrated significant and outstanding leadership, commitment, and contribution to public education that has had an impact on their region and the Commonwealth, and who have shown active involvement in local, state, and federal advocacy on behalf of their division.

Mr. Jordan is a Digital Inclusion Visionary and Technology Consultant. He is the Chief Community Engagement Officer for McKinley-Megginson Group and Director of its McKinley Megginson MELANET Center for Digital Inclusion. Mr. Jordan was among the premier recipients of the Influencers and Innovators of the Internet and Technology award given by the Marketing and Opportunities in Black Entertainment organization (MOBE). Mr. Jordan and his work have been cited in such publications as The New York Times, Black Enterprise, Emerge, The Wall Street Journal, The Washington Post, Newsweek, and USA Today for his accomplishments in bringing business and culture to the Internet. Inside Business has named Mr. Jordan to its Top 75 Power List in Hampton Roads from the list's inception in 2011 through 2020.

In keeping with his family's tradition of civic involvement, Rodney Jordan has served as Convener, Norfolk Digital Inclusion Advisory Board; Chair, Norfolk State University Science and Technology Academicians on the Road to Success (STARS-Plus) Advisory Board; Board member of the Hampton Roads Workforce Development Board (Executive Committee Member and Youth Council Chair); member Board of Commissioners of the Norfolk Redevelopment and Housing Authority (2002 – 2009; former Vice Chair); Vice Chair, Hampton Roads Ventures - a community development investment firm; Member Board of Directors Comprehensive Health Investment Project (CHIP) of Virginia; member board of Directors Urban League of Hampton Roads; Advisory Board Member for the 4th Court Service Unit's Restorative Justice Program; Charter Member, The Hampton Roads Committee of 200+ Men (Past Vice Chair; Economic Justice); Board of Directors of Norfolk Sister City Association; Member, Second Chance Act Tidewater Re-entry Council; President, Park Place Civic League; and lends himself to a variety of community based activities.

Mr. Jordan is the proud father of two daughters who are both graduates of Norfolk City Public Schools.