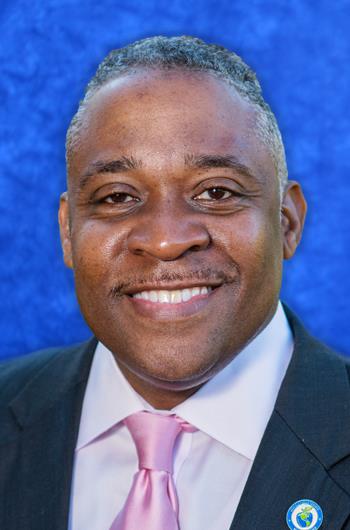 Phone: 757-769-8680 ext. 230 (office)
Email:
Degrees and Certifications:
Mr.

Rodney A. Jordan, Vice Chair

Elected to the Board: July 1, 2012
Elected to the Board: May 3, 2016

Rodney Jordan is a Digital Inclusion Visionary and Technology Consultant. Mr. Jordan was among the premier recipients of the Influencers and Innovators of the Internet and Technology award given by the Marketing and Opportunities in Black Entertainment organization (MOBE). Mr. Jordan and his work have been cited in such publications as The New York Times, Black Enterprise, Emerge, The Wall Street Journal, The Washington Post, Newsweek, and USA Today for his accomplishments in bringing business and culture to the Internet.

As a Director of Community Impact at One Economy Corporation, a global non-profit organization that leverages the power of technology and connects underserved people around the world to vital information that will improve their lives, Mr. Jordan was actively involved with implementing One Economy and the Broadband Opportunity Coalition's Broadband Technology Opportunities Program (BTOP) Sustainable Broadband Adoption project, the largest such project in the country. Mr. Jordan also led One Economy efforts associated with Cisco System's 21st Century Schools program – a $40 million investment by Cisco in Louisiana and Mississippi – whose primary goal was to improve and expand learning opportunities for students by integrating technology into everyday classroom activities.

Mr. Jordan has been an invited speaker to several seminars and conventions. He served as a participant on Black Enterprise Magazine's first Technology Roundtable. And, Inside Business Hampton Roads named him one of the "Top 40 Under 40" in 2001, and in 2011 & 2012 included him on their Hampton Roads 75 "Power List." In 1987, Mr. Jordan received his Bachelor of Science degree in Computer Science from Hampton Institute (University), Hampton, Virginia.

In keeping with his family's tradition of civic involvement, Rodney Jordan serves as Chair, Norfolk State University Science and Technology Academicians on the Road to Success (STARS) Advisory Board; Commission Member, Norfolk State University Spartan Crusade for Academic Success (SCAS); Board of Directors, Old Dominion University Community Development Corporation; Board of Directors of Norfolk Sister City Association; Board of Directors, Urban League of Hampton Roads; Member, Second Chance Act Tidewater Re-entry Council; President, Park Place Civic League. He lends his time to many other community-based service and activities.

Mr. Jordan is the proud father of two daughters who both attend NPS.