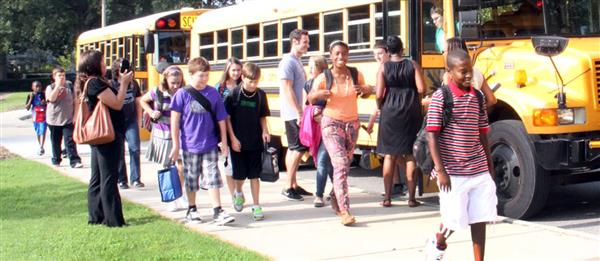 A Look Within
Norfolk Public Schools operates a fleet of 320 buses with 238 contract drivers. We transport approximately 11,000 students to/from school and travel more than 2.3 million miles annually. We provide bus service to general education and special needs students, as well as for school activities, athletic, activity and SOL remedial classes.

Our staff members are dedicated to the fulfillment of the NPS mission. We have 19 fleet maintenance employees who service and maintain our fleet in tip-top condition. Our technicians are ASE certified and receive ongoing staff development on proper procedures dealing with school bus maintenance.

Additionally, we have a strong professional staff in our office who provide quality customer service.
Contact Information
Robert P. Clinebell
Director
rclinebell@npsk12.com

Department of Transportation
5555 Raby Road
Norfolk, VA 23502

Phone (757) 892-3320
Fax (757) 892-3329

If you have questions concerning bus issues for a particular school, contact the assigned FIELD SUPERVISOR:

Larry A. Butler, Sr.
lbutler@npsk12.com
Booker T. Washington High School
Academy of Discovery @ Lakewood
Ruffner Middle School
Berkley-Campostella Early Childhood Center
Richard Bowling Elementary School
Chesterfield Academy
Ingleside Elementary School
Jacox Elementary School
Lindenwood Elementary School
Norfolk SECEP Center (Oakwood)
St. Helena Elementary School
Southside S.T.E.M. Academy at Campostella
Tidewater Park Elementary School
P. B. Young Sr. Elementary School

Lisa Rhodes
lrhodes@npsk12.com
Lake Taylor High School
Norview High School
Azalea Gardens Middle School
Lake Taylor Middle School
Norview Middle School
Coleman Place Elementary School
Easton Preschool (SPED)
Poplar Halls Elementary School
Norview Elementary School
Tanners Creek Elementary School
Norfolk Technical Center
AIMS Rivermont

Lynette Harper
lharper@npsk12.com
Programs
Activities
Athletics




Kai S. Armstrong
Supervisor of Transportation Operations
karmstro@nps.k12.va.us

Main Office Hours:
Monday - Friday
5:30 a.m. - 6:00 p.m.


Alex Richardson
arichardson@npsk12.com
Granby High School
Maury High School
Blair Middle School
Madison Career Center
Camp Allen Elementary School
Ghent Elementary School
Granby Elementary School
Larchmont Elementary School
Monroe Elementary School
Sewells Point Elementary School
Suburban Park Elementary School
Taylor Elementary School
Willard Elementary School


Bruce Bond
bbond@npsk12.com
Academy of International Studies @ Rosemont
Northside Middle School
Bay View Elementary School
Calcott Elementary School
Crossroads Elementary School
Fairlawn Elementary School
Larrymore Elementary School
Little Creek Elementary School
Ocean View Elementary School
Oceanair Elementary School
Sherwood Elementary School
Tarrallton Elementary School
Willoughby Early Childhood Center
Camp Young – AIMS