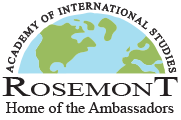 PTSA MEETING IS CANCELLED FOR TONIGHT!!

Dear Parents and Guardians,

ParentVue was upgraded and now has a different address and a slightly different look. The simplest way to update your ParentVue app is to delete the current app from your phone and install the new one. It's a simple process that should take no more than two minutes. If you are using your computer to access ParentVue, the new URL (web address) is https://va-nps-psv.edupoint.com. Your current credentials will still work on the new ParentVue. If you have any problems, please reach out to the NPS help desk at 757-628-3900.

All students are reminded to bring your

WATER BOTTLE

and

FULLY CHARGED CHROMEBOOK

to school each day!
"Two Great Programs Under One Roof"

AMBASSADORS & YOUNG SCHOLARS

Rosemont Instructional Focus

Our Mission

The mission of The Academy at Rosemont, a cornerstone of a proudly diverse community, is to educate each student to be a successful, productive contributor to society by providing powerful teaching and learning opportunities.

Guiding Principles

Self-Respect
High Expectations
Life Long Learners
Nurturing Environment
Team Work
Academic Excellence

We Believe

All students will learn.
All students will be held accountable for acceptable behavior and will respect peers and adults in accordance with PBIS (Positive Behavior Interventions and Supports).
All personnel within the organization will be held accountable for ensuring that decision-making is data driven and congruent with the district's vision, mission, and goals.
Meaningful professional development is critical to quality work performance.
Cultural diversity and learning styles of students will be recognized as a cornerstone of a diverse community.
Enhanced rigorous academic programs are essential for students.
Data analysis is critical to examining existing practices, programs, and initiatives for continuous improvement.
All students, staff, parents, and community members are ambassadors for the school system.
Contact Information
Dr. Dorie Banks, Principal
1330 Branch Road
Norfolk, VA. 23513

Phone: (757) 852-4610
Fax: (757) 852-4615

Office Hours
Monday-Friday
7:30 a.m. - 3:30 p.m.

Student Hours
8:30 a.m. - 3:00 p.m.
Announcements
Rosemont Bell Schedule

Bell 1/2 8:30-9:55

Bell 3/4 10:00-11:25

Bell 5/6 11:30-1:25

Lunch 1-11:35-12:05

Lunch 2-12:15-12:45

Lunch 3- 12:55-1:25

Bell 7/8 1:30-3:00

Join the PTSA today! Click on the links below for more information: