Mission

Booker T. Washington High School is committed to being a premier urban high school by working collaboratively with parents and community members to provide a challenging and diverse education in a safe and orderly environment for ALL students. This partnership will produce students who are critical thinkers, lifelong learners and productive citizens in a global society.
Principal's Corner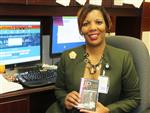 Phone: (757) 628-3575
Email: mstallings@nps.k12.va.us
Degrees and Certifications:
Announcements
BTW Chorus Performs Traditional Gospel Song for Black History Living Museum

For the Black History Living Museum, the BTW chorus performed "City Called Heaven" a spiritual which was originally written by an African-American composer F. Hall Johnson for a solo voice. He was born in Athens, Georgia on March 12, 1888. His father was a minister in the African Methodist Episcopal Church and his grandmother, who was born a slave, sang spirituals to him. The chorus sang the arrangement by Josephine Poelinitz. The choral arrangement had the parts written in a mark and detached manner which is consistent with traditional gospel-singing style.

Winners in Conference 27 Playoffs

Wrestling

Five BTW wrestlers who competed at New Kent High School are heading to the State Wrestling Tournament in Salem. Congratulations to Tyree Sutton, Timothy Miller, Kevin Mitchell, David Howard, and Que Cuffee! Tyree placed second over all in the state and Kevin placed fourth over all in the state.

Forensics

BTW Forensics Team recently competed in Yorktown and came back with bragging rights. Chole-Elizabeth and Isabella Pinto won first place in Serious Duo Interpretation. De'yanna Bridges won third place in Storytelling. They will move on to regionals at New Kent High School. Great job!

Basketball

Ladies Bookers have three 2017 All Conference Players. India Upsher is first team and Brianna Thomas-Brickhouse and Hailey Mack are second team. The Boys Basketball showed their athleticism too with three 2017 All Conference Players. Lamont Edwards is first team and Kameron Parker and Terrell Heath are second team. Fantastic!

BTW Participates in the 40th Annual ODU Model United Nations Conference

The Booker T. Washington High School Model United Nations Team gave up their 3- Day weekend and competed in the 40th Annual ODU Model United Nations Conference at the Norfolk Waterside Sheraton:

Derrica Brown

Nora Brooks

Breana Teasley

Mahagani Stewart

Capri Robinson

Model UN is an educational simulation and academic competition in which students are assigned a country to represent and in turn learn about diplomacy, international relations, and conflict resolution among member countries of the United Nations. During competition students partake in the following lifelong skills: research, public speaking, analyzing and evaluating problems, debating, critical thinking, teamwork, leadership and writing.

After 40 hours of competition, against over 1000 students from across the country, the BTW Model UN Team earned several key recognitions this year including:

Verbal Commendation - Nora Brooks (Morocco - SpecPol Committee)
Verbal Commendation - Derrica Brown (Morocco - UN Global Forum on Women Committee)

In addition to these recognitions, Derrica Brown, Nora Brooks, Breana Teasley, and Capri Robinson all had resolutions to be accepted and passed in committee. Rose Conde, who was not able to compete due to an emergency also had one of her position papers to be accepted.

BTW Team is Tournament Champion of the First Annual Bowl for Education

The First Annual Bowl for Education was hosted by the Norfolk Education Foundation. The team members were Mr. Cuffee, Mrs. Pope, Mrs. Harmon, Mr. Nelson, Mr. Anderson, and Mrs. Coking's Daughter, Carrie. Read More

Envy Dance Team Outperforms @ Sweetheart Dance Explosion

Saturday at BTW the Sweetheart Dance Explosion was rocking the house. Envy won four 1st place awards for Solo, Duo, Trio, and Stand Battle. Congratulations!

Girls & Boys Basketball Conference 27

The Lady Bookers won against Lakeland High School with a final score of 59 to 57.

The Boys won againt York High School with a final score of 70 to 39.

BTW Students Attend Hidden Figures Movie Screening

Old Dominion University's Batten College of Engineering and Technology hosted the private screening of Hidden Figures. The movie was chosen because it relays the role African American Female mathematicians played in history to help put a man on the moon. The movie is also a tool for inspiring students to pursue careers in science, technology, engineering and mathematics (STEM). Further information can be found in the article on News @ ODU.

Sojourner Truth and Shirley Chisholm Visit The Black History Month Living Museum

Sojourner Truth (portrayed by Rev. Joyce Nyhaug) and Shirley Chisholm (portrayed by Mrs. Martins) visited The Black History Living Museum on Wednesday, February 15, 2017. Sojourner Truth discussed her journey from slave to abolitionist and women's rights advocate. Shirley Chisholm talked about her career as the first African American woman elected to the United States Congress. She was also an educator and an author.

Barbara Jordan and Dorothy Height Speak at The Black History Month Living Museum

Monet McCann portrayed Barbara Jordan, a lawyer and educator who was a congresswoman from 1972 to 1978. She was the first African-American congresswoman to come from the deep South and the first woman ever elected to the Texas Senate (1966). Ms. Jordon captured the attention of President Lyndon Johnson, who invited her to the White House for a preview of his 1967 civil rights message.

Mrs. Wright-Wilkins portrayed Dorothy Height, a civil rights activist who spent more than 80 years working for racial equality and women's rights. Her work often centered around the ways racism and sexism were inextricably linked struggles for black women. As one of the organizers of the 1963 March on Washington, where King delivered his famous "I Have a Dream" speech, Height was the only woman seated on the speaker's platform.

Students Role-play as Norfolk Police Officers

In developing a greater partnership between BTW and Norfolk Police Department, the Community Affairs division visited the school and had the students participate in role-play scenarios so the students could gain a greater appreciation for what the police encounter every day. The officers also demonstrated how quickly a police situation can escalate and how to the students can protect themselves. They were sponsored by the BTW History and Social Science Department.

Athletic Scholarships

Congratulations to Kaysean Edwards and Anthony Mitchell for being awarded athletic scholarships. Kaysean will be attending Ferrum College and Anthony will be attending Fort Scott Community College.

Black History Month Begins

The Black History Month Living Museum opened February 1st and will be open all month. Guests from the past visit daily at the Living Museum in front of the office at 8:00 AM. Come listen to these historical leaders tell their roles in history.

Additional artifacts are located at the History Corner upstairs on the Social Studies hall.

FBLA Food Drive

Together we can solve hunger. The Future Business Leaders of America (FBLA) is holding its yearly Food Drive. We are asking for the support of the entire BTW family. You can support the Food Drive by donating canned and boxed food items. Your donations support the Southeastern Virginia Foodbank which supports needy families and the homeless.

Boxes for collection are located throughout the school. The boxes will be picked up on Thursday, February 9th.

Teachers if you need a box, please call Ext. 3121. Monetary donations will be collected in homerooms on Feb. 1 and 2 as well.

NJROTC 1st Place Winners

Congratulations to NJROTC for their accomplishments at the Gloucester High School Drill Competition on Saturday, January 21. They came in 1st place in the Unarmed Standard Basic Drill and 3rd place in the Armed Standard Basic Drill.
School Contact Information

Dr. Margarie Stallings, Principal
1111 Park Ave.
Norfolk, VA. 23504

Phone: (757) 628-3575
Fax: (757) 628-3566

cseay@nps.k12.va.us

Office Hours
Monday-Friday
7:00 a.m. - 3:00 p.m.

Student Hours
7:25 a.m. - 2:05 p.m.