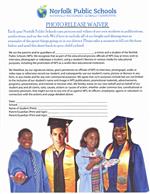 Why Not Sign This Today?
For students to receive recognition on the Maury website, Channel 47, newsletters, and other publications, it is mandatory that students have a signed photo release on file. By signing this form, you provide permission for Maury HS and Norfolk Public Schools to publish your child's image on publications. This form is available in the student handbook, but you can download the form here.
On many occasions, we cannot use a student's image, because we have no record on file, and students fail to give the form to parents. When we receive your form, we will update your child's record in Synergy to reflect receipt of the photo release waiver.
Have your child return the waiver to the library, or you can scan the signed form and send it to erowe@nps.k12.va.us.