Return to Headlines
Tutor.com - Academic Support for Military-Connected Students
On-site at several schools within Norfolk Public Schools, more than one thousand (1,000) military-connected students were recently given the opportunity to participate in a hands-on demonstration/training session for using the Tutor.com for U.S. Military Families program. Tutor.com/military is a Department of Defense funded program that provides on-demand, online academic support and homework assistance at no cost to students in eligible Army, Navy, Air Force, Coast Guard, and Marine Corps families around the world.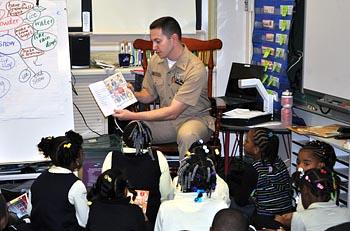 Tutor.com/military allows students to anonymously connect with an expert tutor online at any time for personalized help with homework, studying, test preparation, proofreading and more. Academic support is available in all the core subjects (English, mathematics, social studies, and science) as well as some world languages. Students may access the program 24 hours a day, seven days a week using any internet-enabled device to include smart phones and tablets; no appointment is necessary. A free mobile app is also available on any iOS or Android device.
For more information about the Tutor.com for U.S. Military Families program, visit www.tutor.com/military, e-mail militarysupport@tutor.com, or connect via social media at facebook.com/TutorDotComForMilitary and twitter.com/tutordotcom. In addition, you may also reach out to the Department of Interagency Collaboration and Wraparound Services at 757-628-3930.